./assets/body-header.qmd
Tomorrow (July 23, 2020 ) I am speaking on the history of the R statistical software environment as part of a virtual panel for a Lunch & Learn. I like how they used "featuring" in the announcement. It is like I am a hip-hop star! The title of my talk is, A History of R (in 15 minutes…and mostly in pictures).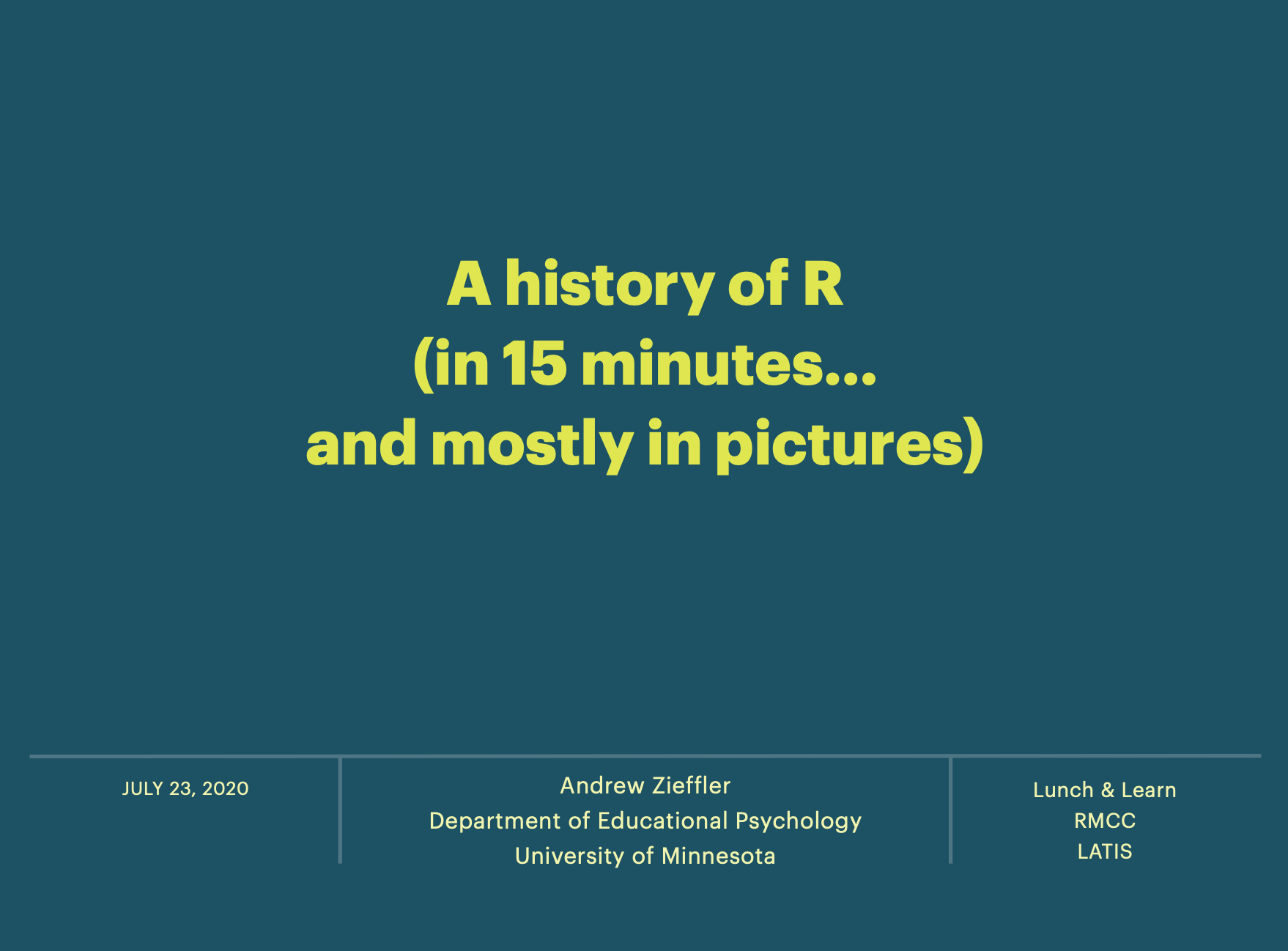 R @ 25 Lunch & Learn: Understanding the Landscape of the Popular Free/Open Source Statistics Software
Featuring Andrew Zieffler, Ph.D. (EPSY); Alicia Hofelich Mohr, Ph.D. (LATIS); Ethan C. Brown, Ph.D. (RMCC), and Jeffrey K. Bye, Ph.D. (EPSY/RMCC)
Co-sponsored by RMCC and LATIS
Abstract: The R statistical software environment has a large international community, powerful data-management and visualization tools, implements cutting-edge methods, and can be used to create beautiful web dashboards and customized reports. In this panel discussion to celebrate the 25th anniversary of R being licensed as open-source software, we will explore the growth of R from its humble beginnings as a project by two University of Auckland statistics professors to install S on a Macintosh computer to its current status as computational statistics lingua franca. We will also discuss how to navigate the large ecosystem of R packages including classic "base R", the "tidyverse" and others. Finally, we will provide tips and resources on getting started learning R and also growing your R proficiency—including upcoming workshops and courses here at the U. This panel discussion is for everyone interested in learning more about R, but doesn't assume any R experience.
References and Resources
First, my slides:
The slides include a long list of references, many of which are videos of talks by the people who appear in my slides. And believe me, they can tell their story better than I can. Unfortunately when I flattened the PDF the links no longer work, so I re-print them here with links. The new PDF should have working links!
History of S and R [video]
History of S and R [papers/slides/resources]
Becker, R. A., & Chambers, J. M. (1978). Design and implementation of the "S" system for interactive data analysis. The IEEE Computer Society's Second International Computer Software and Applications Conference, 1978. COMPSAC '78., 626–629.
Chambers, J. M. (2006). History of S and R (with some thoughts for the future). Presentation at the UseR! Conference, Vienna, Austria.
D'Agostino McGowan, L. (2017). R release names. Livefreeordichotomize blog.
Gentleman, R. (2009). R and modern statistical computing. Talk.
Gentleman, R., & Ihaka, R. (2000). Lexical scope and statistical computing. Journal of Computational and Graphical Statistics, 9(3), 491–508.
Ihaka, R. (1998). R: Past and future history. Interface '98.
Ihaka, R. (2009). The R Project: A brief history and thoughts about the future. Massey University Statistics Day. Massey University, Palmerston North, New Zealand.
Ihaka, R., & Gentleman, R. (1996). R: A language for data analysis and graphics. Journal of Computational and Graphical Statistics, 5(3), 299–314.
The R Foundation. (n.d.). The R Project for Statistical Computing. [website]